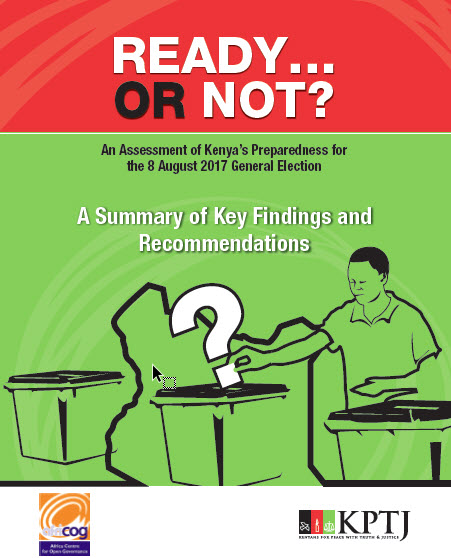 An Assessment of Kenya's Preparedness for the 8 August 2017 General Elections – A Summary of Key Findings and Recommendations
Despite the hope that marked the 2013 elections in Kenya, a wide range of irregularities, inconsistencies and errors during multiple phases of the electoral cycle left the country further divided and without answers to a series of questions about the administration of the election. In fact, at the end of the last election cycle, there was deep distrust about the validity of the presidential result, which had been announced before all tally sheets had been submitted. Moreover, serious weaknesses in the law, especially with regard to constitutional provisions for leadership and integrity, and severe technical failures, including the collapse of the electronic results
transmission system, the existence of multiple voters' registers, and numerous errors and inconsistencies on polling station tally forms, had been left unaddressed and unexplained. Unsurprisingly, in the aftermath of the election, public faith in the Independent Electoral and Boundaries Commission (IEBC) plummeted.
As the country now prepares for the next general election, scheduled for 8 August 2017, it is important to evaluate what has changed since 2013 and to identify where problems remain. In this report, which is the first in a series, the analysis focuses on an assessment of activities in the pre-election phase. Future editions will cover later phases of the electoral cycle.
The IEBC is now headed by a new set of commissioners, who took office late last year. This change came in the aftermath of several months of opposition-led protests demanding an overhaul of the Commission over allegations of bias and corruption. Some of the protests were violently dispersed by the police, with scores of people injured. The new commissioners are working on an extremely tight timeline under strenuous conditions characterized by significant public apprehension. Much of this apprehension is rooted in the 2013 election, the results of which lacked broad public legitimacy and left the country deeply divided. Since then, mistrust has only grown. The political
environment has been characterized by shrinking space for public engagement and growing intolerance of dissent, even as the government finds itself implicated in multiple corruption scandals.